A Grand Final To Remember
We look back at the 2023 QPFA Grand Final Day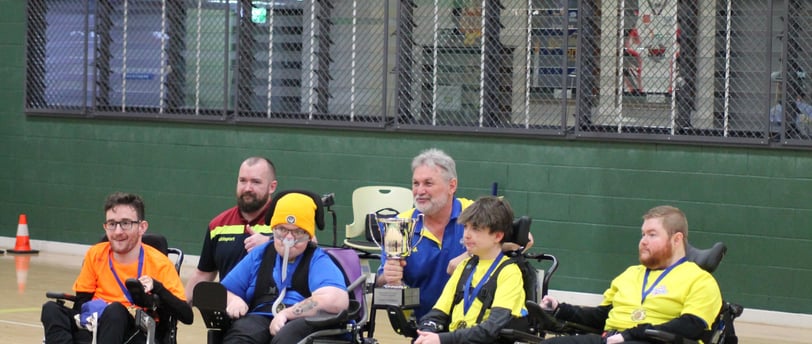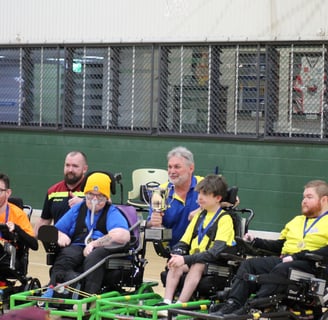 As the sun beamed down on a perfect Queensland day, the Queensland Powerchair Football Association (QPFA) Grand Final Day unfolded indoors at the PCYC Lang Park's basketball court, setting the stage for a kaleidoscope of action, camaraderie, and sheer determination.
Semi-Final Game 1: Strikers vs. City (4 - 2)
The day kicked off with a bang as the Strikers and City battled it out in a thrilling game. The Strikers managed to outmanoeuvre City, clinching a 4 - 2 victory in overtime which set the tone for the day's intensity. Both teams showcased remarkable teamwork and skills, creating a spectacle that kept spectators on the edge of their seats.
Semi-Final Game 2: Lions vs. Jets (2 - 0)
The second semi-final featured a fierce face-off between the Lions and the Jets. In an intense battle of wits and strategy on the indoor court, the Lions triumphed with a 2 - 0 win. The Jets put up a valiant effort, but the Lions' defence held firm. It was a match filled with spectacular saves, impressive goals, and another worthy game to be called a semi final.
3rd Place Playoff: Jets vs. City (1 - 0)
The 3rd place playoff witnessed the Jets taking on City in a nail-biting encounter. In a closely contested match, the Jets emerged victorious with a 1 - 0 win. Both teams showcased exceptional defensive skills and an unwavering commitment to securing the 3rd place play off spot.
Grand Final: Strikers vs. Lions (2 - 1)
The climax of the day arrived with the Grand Final showdown between the Strikers and the Lions. The tension was palpable as these two powerhouse teams took to the indoor basketball court. In a heart-pounding match that had fans roaring with excitement, the Strikers managed to secure a hard-fought victory, edging out the Lions 2 - 1. The final score hardly does justice to the level of play on display on the Lang Park indoor court, with both teams delivering a performance for the ages.
Congratulations to all the teams who participated, and a special salute to the Strikers for their Grand Final triumph. It's moments like these that remind us why we love the game and why we'll be eagerly waiting for the next season to unfold. Until then, the QPFA will continue to thrive, powered by the passion and camaraderie that define the heart of powerchair football.